Lockhart River, Cape York
Accommodation
Greenhoose offers Cape York accommodation nestled amongst the Kutini-Payamu (Iron Range) National Park near Lockhart River. Welcoming guests since 2013, we've continued to grow and now offer a total of 20 rooms comprised of double en-suite, single en-suite, single and family shared rooms.
All rooms have a large veranda, air conditioning and free Wi-Fi. All bedding is included and laundry facilities are available. En-suited rooms have their own toilet, shower, hand basin, fridge and flat screen TV.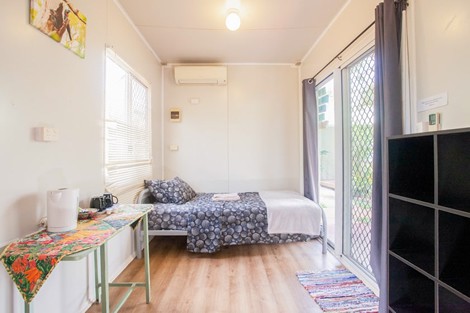 A night at the Greenhoose Lockhart River accommodation is truly a unique experience. You will be surrounded by a tranquil rainforest environment and be closer than ever to flora and fauna, some of which is endemic only to the Kutini-Payamu (Iron Range) National Park. During a walk through the area you may be fortunate enough to find a sleeping Cuscus, see a beautiful Ulysses butterfly or even the elusive cassowary (Kutini) who the park is named after.
If you are coming for the birds, you'll be in the right place. From University studies, to Japanese wildlife programs, birders from around the world have used The Greenhoose as a base for their trips. Cape York birdlife such as the Magnificent Riflebird, Eclectus Parrot, Green-backed Honeyeater, Northern Scrub-Robin and the renowned Palm Cockatoo are common sightings on site at The Greenhoose.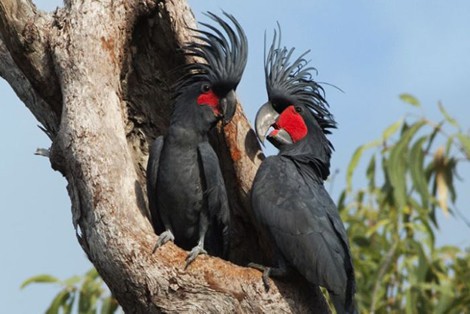 Secluded Cape York Accommodation
Single Shared Bathroom - $125 / Night
Charming by character. A doorway into rainforest living, each room has a comfortable single bed, air-conditioning and verandah.
Single Ensuite - $185 / Night
Welcome to the suite life. Soak in the serenity with all the modern comforts. Each room  has a single bed, ensuite bathroom, air-conditioning, tv, fridge and verandah.
Double Ensuite - $185 / Night
Welcome to the suite life. Soak in the serenity with all the modern comforts. Each room  has a single bed, ensuite bathroom, air-conditioning, tv, fridge and verandah.
Family Shared Bathroom - $175 / Night
Cosy home away from home. Includes a Queen and Single bed, and a third guest can be be added for a small cost. All family rooms have private verandahs.
"Great Spot, Great Hosts!"
"Highly recommend. The rooms and premesis are very clean and tidy. The location, tucked into the vibrant rainforest just out of town and the hosts Jane, Luke and team were so friendly and helpful. Having self catering and a takeaway shop on the doorstep gives you options after a busy day."
"Beautiful Oasis in the Rainforest"
"Beautiful and relaxing! I stayed at the Greenhoose for a few weeks for work. The rooms were clean and the staff were friendly. It was a nice getaway from work on the weekends and I would definitely stay again for a holiday."
"An Oasis!"
"The Greenhoose caught my eye from the road, after a dusty drive on warm day it looked like a tranquil oasis. Beautiful green gardens give this place a relaxed feel. Jane was super helpful and friendly & June is a born host. Excellent new kitchen facilities and wifi are available. My room was clean and comfy, with the veranda looking out onto the natural forest. This place is well cared for and a credit to all those making it happen. Thank you :)"
"The Local Experience"
"The owners of this wonderful venture are hosts in every sense of the word. They're proud of what they've created and justifiably so. You'll get an authentic slice of local experience when you stay, and their home-cooked meals are a delight"
"Excellent Hospitality and Great Birdwatching"
"I recently stayed at the Greenhoose for four nights in early October 2018. Although the room was small, it was clean and comfortable with A/C and tv. Meals were served family style on the covered porch and were plentiful and delicious. I especially enjoyed the locally caught, chilled prawns. The hosts and their family members were all very welcoming and eager to share their knowledge about Cape York. Finally, the birdwatching on and around the property was fantastic. Thank you for a great Cape York experience."
"What a gem!"
"We were very surprised by the Greenhoose. We expected "rustic" from the website but received one of the friendliest stays we have experienced in remote accommodation. The staff are so friendly. The price is very reasonable. The facilities are really good. There is a very comprehensive kitchen if you bring your own food but meals can be purchased."